We have a professional engineering group and rich experience in the field of satellite communication, we provide whole service including demand analyse, system design , equipment offer, and whole after-sales support including installation, testing and maintenance and user training etc to our clients.
Teleport System
£® 6.2~16 meter antenna
- C-band and Ku Limited motion to Full motion antenna
£® Tracking System
- Beacon Receiver, Step Track, Memory Track, OPT Track
and Mono-pulse Tracking System
£®HPA system
- C-band, Ku-band and Tri-band system up to 1000W SSPA,
3KW TWTA or KPA
£® Converter System
- C-band, Ku-band and X-band up/down converter
£® Modem System
- 9.6kbps to 155M SDH Modem
£® Professional MPEG Video Broadcasting Headend
£® Earth Station Monitor and Control System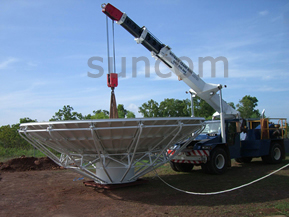 VSAT System (1.8 to 4.5 m antenna)
£® SCPC VSAT Station
Banking Networks, Video Conference, Voice and Data
£® SCPC/DAMA System Network
Voice and Video Conference System, and Circuit Restoration.
£®TDM/TDMA System Network
Two Ways VSAT Network Solution.
£® DVB System Network
Multimedia Broadcasting, (IP, Frame Relay, ATM¡­) over Satellite.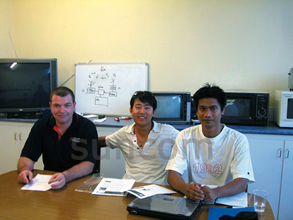 Training for customer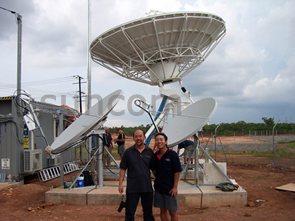 Satellite TV Uplink System Integration
£® DVB Encoder system
£® Statistic and Passive Multiplexer
£® Customize RF (Phase Combine and duplexer) System
£® MPEG Video Signal Monitor System
£® SNG Truck and Flyaway System
£® Video Backhaul System
£® Video Distribution System
Emergency Satellite Communication System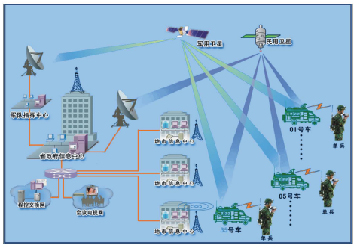 The emergency satellite communication command system adopts SUNCOM on-the-move satellite communication and SNG satellite communication technology, and shortwave communication system, network communication, public network communication technology (GSM, CDMA, TD, PSTN) and other means of communication, construct military and civilian dual-use, unified command, complete function and quick response emergency communication and command platform.
System composition
Satcom on-the-move communication command vehicle
SNG communication command vehicle
Satellite hub station
Microwave network transmission system
Vehicle trucking communication system
Wireless broadband network and shortwave radio