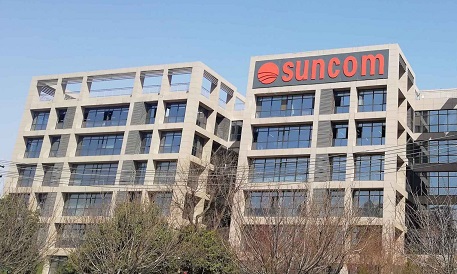 China Sun Communication Group Limited Company was founded by recombining two established state owned companies. The result is a company with a group of market personnel and technical experts who dedicated in the fields of satellite communications and a wealth of experience, SunCom is a high-tech enterprise which combines marketing, after-sale service and R &D in one entity.
Our main business includes R&D, manufacture and marketing of GEO,MEO and LEO VSAT/earth station antennas and antenna systems which are used for satellite communication, TT&C (Telemetry, Tracking and Control), EO (Earth Observation), satellite reception, radar, rescue search and other special applications
SunCom emphasizes the importance to partner with leading global players in the industry on both product development and marketing, and keep close and long-term cooperation with China Telecom, China Mobile, China Unicom , Chinasat, Intelsat, Hong Kong ABS, Thales, idirect, SingTel,Speedcast ,Amplus etc. Our business reach have now expanded to Southeast Asia,Pacific Ocean Country, Middle-East,Europe, Africa and so on.
China Sun Communication Group Limited not only provides satellite communications antenna products, but also by virtue of its own technical strength and wealth of experience provides a complete set of services from pre-sale analysis, system design, products selection to after-sale installation, testing, maintenance and training .
Manufacture, R&D advantage
SUNCOM and XIRST have an antenna design studio, an antenna testing center and two machining center for satellite communications antenna development and production. Have a Chinese advanced antenna near field measurement system, an open anechoic chamber. Suncom has first-class antenna design software and microwave testing instruments. We have built environment laboratory which is equipped with mechanical vibration table, and high and low temperature test box, and can complete mechanical and high temperature test
SUNCOM has 118 technical personnel engaged in the antenna design R & D and production. Among them 6 people of doctoral, master's 19 people, 35 degrees; senior engineer 20 people, 38 people of engineer. We have rich experience in design, engineering and development of satellite communication terminal products.
We have two antenna production bases, one is located in china Xi'an, another is located in China Yancheng. R & D processing center in Xi'an is 60000 square meters, the base in Yancheng is 10000 square meters. Production and assembly process of 0.3m to 20m antenna can be completed, specifically including processing high-precision reflector, large high-precision antenna stand, antenna feed, microwave component and other related products, can finish the surface anti-corrosion processing of large antenna steel structure. Annual production capacity: 11 m to 16m antenna 30 sets, 1.2m to 9m antenna more than 1000 sets
Quality assurance
Suncom is an ISO9001 quality system approved company, Suncom has its products design, development, production, installation and service carried out strictly according to requirements of ISO9001 Quality System, which ensures the reliability and durability of the products and service.
Suncom production are being used in worldwide clients for commercial, industrial application.